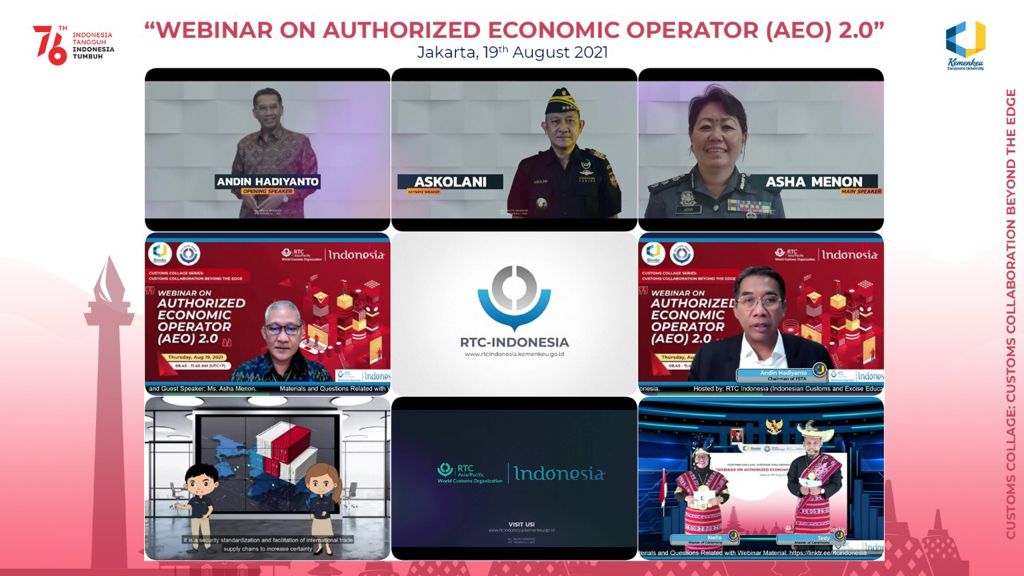 "Directorate General of Customs and Excise of the Republic of Indonesia commits to continuing our efforts in achieving best national practice of the AEO program for greatest benefit of its implementation for private sectors to a secured and sustainable global supply chain." Askolani, Director General of Customs and Excise of the Republic of Indonesia in the opening Remarks on AEO 2.0 Webinar.
RTC Indonesia hosted Webinar on Authorized Economic Operator (AEO) 2.0 virtually on 19 August 2021. The AEO Webinar is the 7th edition of the International Customs Webinar Series themed "Customs Collage: Customs Collaboration Beyond the Edge" with key objectives to enhance capacity and knowledge on the AEO 2.0 developments for Customs officials, members administrations of the WCO, OGAs, economic operators and public community.
Andin Hadiyanto, Chairman of the Indonesia Financial Education and Training Agency, on his opening remarks stated that the webinar is a mean to bridge communication among related parties through knowledge and experience sharing to address the changes of AEO program in the light of COVID 19 and the future vision of AEO 2.0.
A total of 500 participants joined the webinar and actively involved in the sharing and discussion during the two sessions of presentation facilitated by Asha Menon, WCO Accredited Expert on AEO.
Ms. Menon shared fruitful presentation on the WCO SAFE Framework of Standards, AEO recent development and updates, MRA implementation and their best practices, WCO instruments and tools on AEO, as well as AEO 2.0 concept and its way forward.
AEO 2.0 was initiated to respond the need of a harmonized and optimized implementation through a strengthened yet simplified/ minimum criteria for a more effective implementation of the program. On the AEO-MRA implementation, Ms. Menon during her presentation encouraged Customs administrations to start looking at their AEO operators and making sure they actually make use and get the best benefit of it.
Key challenge in building an ideal system for AEO implementation varies among nations and that it is indeed a system that cannot be build overnight. However, AEO program has proven to be benefitted the whole layers in the business system and thus the program worth the extra effort for its best implementation.
Indonesia DGCE provides benefits for AEO certified companies such as time and cost-saving, minimum level of inspection and documentation requirements, simplified Customs procedures, access to priority settlement and services by Client Manager, and deferred payment. AEO program also enables Customs administrations to focus on higher-risk cargo shipments while inspect lower-risk shipments faster. In addition, AEO certified companies are also granted a swifter procedure of tax restitution and also eligible for export-import auto-approval.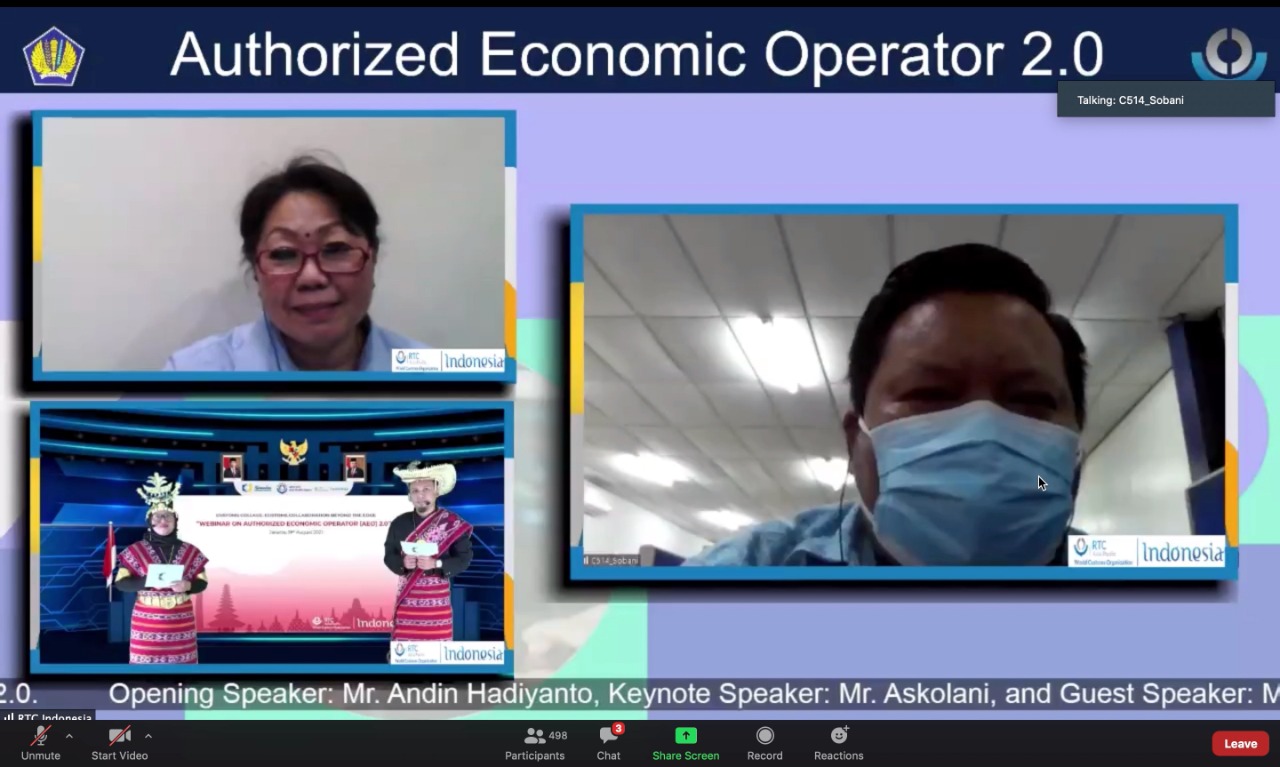 In line with the initiation of AEO program expansion, Indonesia DGCE has also been currently drafting important changes to Minister of Finance (MoF) regulation that include layering or leveling, more flexibility in AEO criteria, thus the regulation can better accommodate the AEO implementation for Micro, Small and Medium Enterprises (MSME). The proposed changes also include optimization of the use of risk assessment and MRA.
The WCO has continuously been developing instrument and tools to be utilized as guidance for an ideal and harmonized implementation of AEO program. One of which is the WCO SAFE Framework of Standards that outlines strategies to securing global trade movements without hindering but facilitating the movement of trade, and has been taken to regular reviews to best accommodate the recent needs and development.
Ms. Menon underlined how the AEO program, besides proven to be facilitating private sectors through simplified procedure, have also benefitted Customs administrations and the nations through an improved companies' compliance that is believed leading to an increased state revenue while creating safer and more secure global trade, especially during the moment of crisis due to COVID-19 pandemic.
In the closing statement, Ms. Menon urged all participants from Customs Administration, OGAs to public community to actively promoting the implementation of the AEO program for the greatest good of a secured and sustainable global trade.