Message from the WCO Asia/Pacific Vice-Chair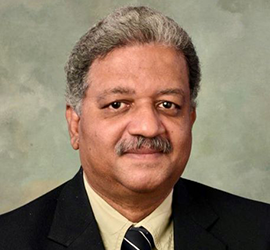 Dear Colleagues,
Warm Greetings from India.
I have recently taken over as the Chairman of the Central Board of Indirect Taxes and Customs, India. On behalf of India, it is my honour and privilege to serve the Asia-Pacific Region, as the WCO Vice-Chair, for the remaining period of the current term 2018-2020 through June 2020. Indian Customs, while working as the Vice-Chair of Asia Pacific region of World Customs Organization (WCO) for the period 2018-2020, kept four guiding principles viz.,greater communication and connectivity, to harness technology advancements, inclusive approach and consensus on core issues at the centre of decision-making and these principles will continue to guide us in carrying forward the work pertaining to the Asia Pacific Region, even after our responsibilities as Vice Chair for the current term are concluded.
As the regional Vice-chair, I appreciate the continuous support that we have been receiving from the Members of the Asia Pacific Region of the WCO. We would continue to play an active role in identifying and pursuing the aspirations of the Asia Pacific Region, in close coordination with regional bodies and reflect them in the future WCO agenda. As our tenure as Vice Chair is nearing an end, we would make every possible effort for a smooth transition of the role from India to Indonesia. 
The Customs Cooperation Fund of India along with the Customs Cooperation Funds of China, Japan and Korea are continuously contributing to finance various capacity building and technical assistance activities as needed by the member administrations in the region. Indian Customs shall also strive to enable improved delivery of the Capacity Building activities under the aegis of WCO to ramp up the capabilities of Customs administrations for implementation of the WTO Trade Facilitation Agreement.
There are a number of key issues of importance undergoing discussions at WCO which require regular communication and coordination between members.Customs authorities are the first line of defence against many criminal and violent extremist and terrorist organizations. We as a region need to work closely on exchange of information and intelligence and enhance co-operation to combat transnational organized crime.
I invite all member administrations to cooperate more closely for the benefit of the entire region. I also reaffirm our shared commitments towards a facilitated cross-border movement of goods, passengers and transport whilst ensuring security of international supply chain.  Further, I request all members to communicate the regional and/or Customs Administration-specific concerns for the New Regional Strategic Plan.Your support and cooperation gives us motivation to work harder in fulfilling our role. India would work unstintingly to reflect the concerns of the entire Asia Pacific region while at the same time taking forward the broader agenda of the WCO.
I look forward to working closely with all members in the region to achieve these goals.
Warms regards

(M. Ajit Kumar)
Regional Vice Chair of Asia Pacific Region &
Chairman, Central Board of Indirect Taxes and Customs/
Ministry of Finance, Government of India