Message from the WCO Asia/Pacific Vice-Chair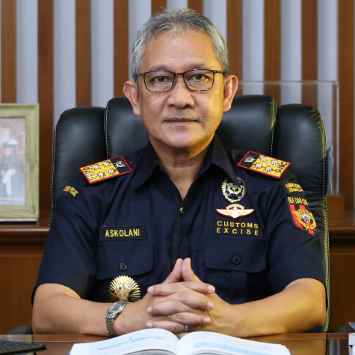 Dear Colleagues,
It is my great pleasure to inform you that I, Askolani, have been appointed as Director General of Customs and Excise of the Republic of Indonesia as of 12th March 2021. I also took over as WCO Asia Pacific Vice-chair to succeed Mr. Heru Pambudi, who was assigned as the Secretary General of Ministry of Finance. I have been serving in Ministry of Finance for 29 years and it is really an honor for me to be able to join the global Customs community. 
The progress of vaccination in the first quarter of 2021 has filled many with optimism, but the post-pandemic world won't be the same as it was before. We are now still encountering challenging time, and this far, we have invested comprehensive works in order to invigorate the recovery of the region. Starting with unceasingly facilitating the movement of vaccines and other related medicines as the most prioritized task. At the same time, we as are working at the front line, highly demanded to fight the organized crime such as fake and counterfeit vaccines in order to avoid the misappropriation of the vaccines. In this occasion, Vice-chair will encourage members to maintain the accelerated vaccines distribution as well as presiding the deployment of counterfeit ones.
During this challenging time, I consider the cooperation between Customs Administration to be of high importance. For this reason, one of my priorities is to continue and further develop close cooperative relationship that you have maintained with my predecessor. Carrying forward all-inclusive working progress inherited by the previous Vice-chair, I firstly encourage all members to continuously work under the Regional Strategic Plan 2020-2022 to see how far we have proceed in implementing all actions plans, and to highlight more the priorities of the region. Globally, we are also required to be in lined with the WCO Strategic Plan. Therefore, Vice-chair will keep prompting members to implement WCO tools and instruments, agreements and convention, and appropriate risks management particularly related to trade security and facilitation as well as international supply chain. Vice-chair would also like to increase the active participation of members on sharing their experiences regarding the customs procedures implemented.
Further, as we are working together with other authorities, maintaining two-way communication with private sectors, international organization and other stakeholders is also significant to establish effective coordination. Initiating the Regional Private Sector Group Asia Pacific (RPSG-AP) is a great point to start with. Vice-chair kindly invites all member administrations to take active participation in establishing the RPSG in the region, meanwhile Vice-chair will actively coordinate with WCO PSCG in the preparing the next stages. Hopefully, this initiative may construct a comprehensive dialogue and goodwill in cooperation among the private sectors and the government in order to sort out the current Customs and international trade-related matters.
I understand that each member may have different concerns and interests. Nevertheless, the sense of unity and regional harmony are essential to be promoted in order to successfully achieve our common goals. Taking this opportunity, I would like to urge members' active participation and continuous support in all WCO activities and priorities, both in regional and global level.
Finally, I look forward to our continued cooperation and hope to meet you in person in the near future.
Together, we are echoing Asia Pacific.
Yours sincerely,
Askolani
Chairman of Regional Vice Chair of Asia Pacific Region,
Director General of Customs and Excise,
Ministry of Finance of the Republic of Indonesia