On 26 January, 2019 International Customs Day 2019 was observed in Bangladesh with greatfestivity as elsewhere around the world. National Board of Revenue (NBR) undertook wide range of programmes to celebrate the day in a befitting manner. The day was observed centrally in the capital by the NBR and was also observedregionally at 8 other Customs offices across the Country.
A special supplement was published in 14 popular and widely circulated daily newspapers in Bangladesh on this occasion. Hon'blePresident of Bangladesh H.E. Abdul Hamid and Hon'ble Prime Minister H.E. Sheikh Hasinaboth issued separate messages on this occasion.Wishing the success of all programmes undertaken by NBR. In their messages, they felicitated all officials of Bangladesh Customs, the taxpayers and the relevant stakeholders for their constructive roles in the development of the country. They further appreciated WCO for choosing a time-befitting sloganfor the Day, "SMART borders for seamless Trade, Travel and Transport" in the context of present world.
NBR brought out a colourful rally in the morning to mark the day and organized a seminar at the Bangabandhu International Conference Center (BICC) in the evening. Hon'ble Finance Minister H.E. Mr.AHM Mustafa Kamal, MP;Hon'ble Commerce Minister H.E. Mr.TipuMunsi, MP and Economic Affairs Adviser to the Hon'blePrime Minister H.E. Dr.MashiurRahman participated at the seminar. Officers from Bangladesh Customs; senior officials from Ministry of Finance and other ministries; representatives from private entities and relevant stakeholders attended the seminar. During the seminar, NBR honoured 15 officials from Bangladesh Customs and 5 stakeholders (organizations) with WCO Certificate of Merit for their valuable contribution to the activities of Bangladesh Customs. Furthermore 10 officials from Bangladesh Customs were awarded with crest & a letter of appreciation for their significant contribution to customs modernization initiatives in the same occasion. Besides these programmes Bangladesh Customs took a lot of initiatives for awareness building among the stakeholders and common people. A documentary was prepared and circulated considering the theme of the day & recent activities carried out by Bangladesh Customs; a good number of NBR officials attended in talk show programmesof renowned TV channels where customs related issues were discussed in an elaborative manner. NBR, major custom houses along with important places of the city were decorated with lightings and posters.
On the eve of ICD 2019, Chairman of the NBR Mr. Md. MosharrafHossainBhuiyan, ndcbriefed the press about the event. During the briefing, he highlighted the theme adopted for the occasion and said that NBR would remain true to its commitment and would do the utmost for ensuring a "SMART borders for seamless Trade, Travel and Transport"in view of creating business-friendly environment and thus would contribute towards the development of the economy.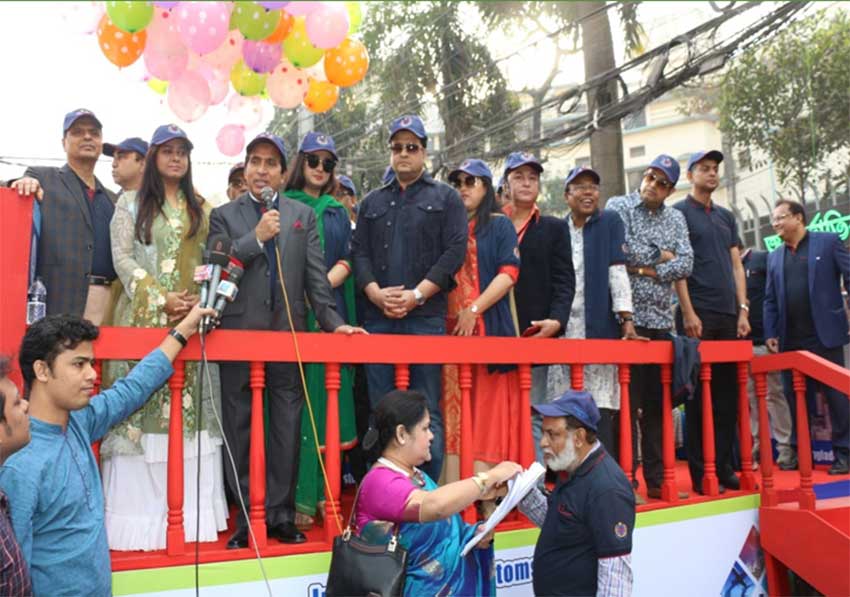 Chairman of NBR inaugurating the Rally
Colourful Rally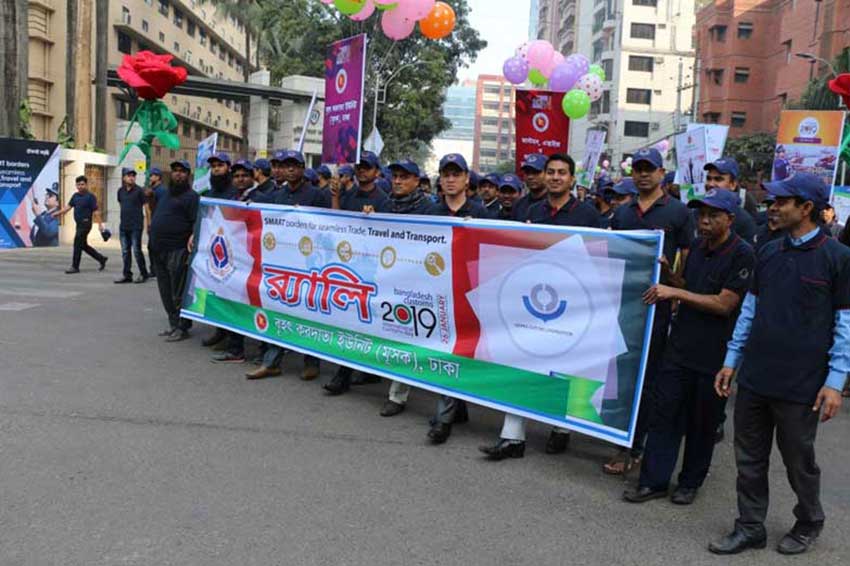 Officials at the Rally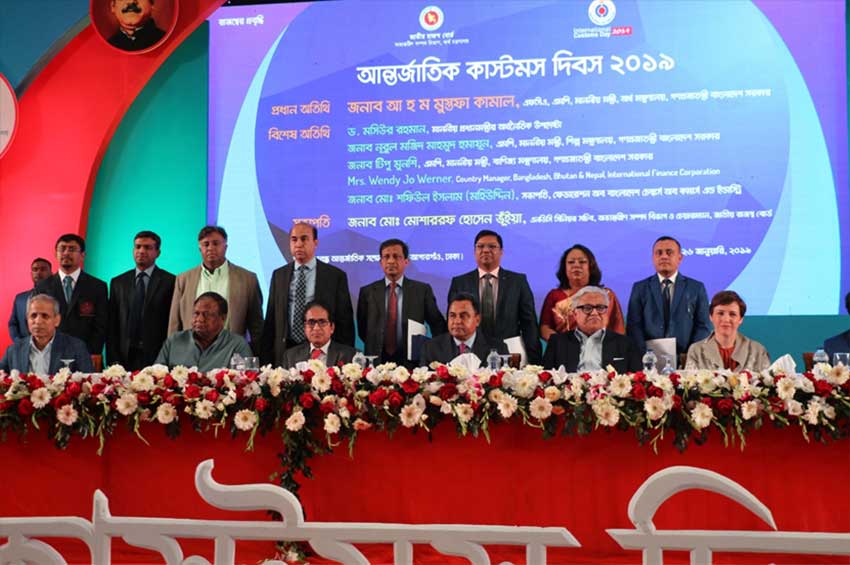 World Bank Special Awardees in theseminar on International Customs Day 2019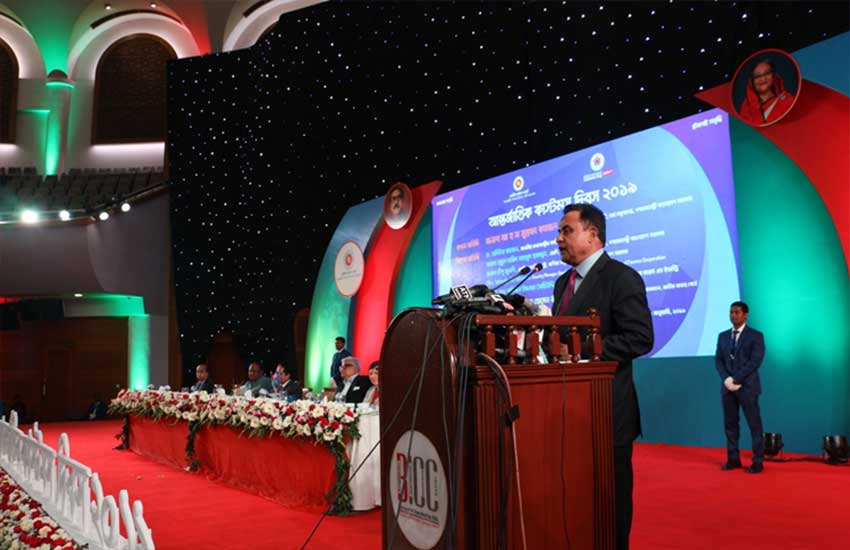 Honourable Finance Minister delivering his speech in the seminar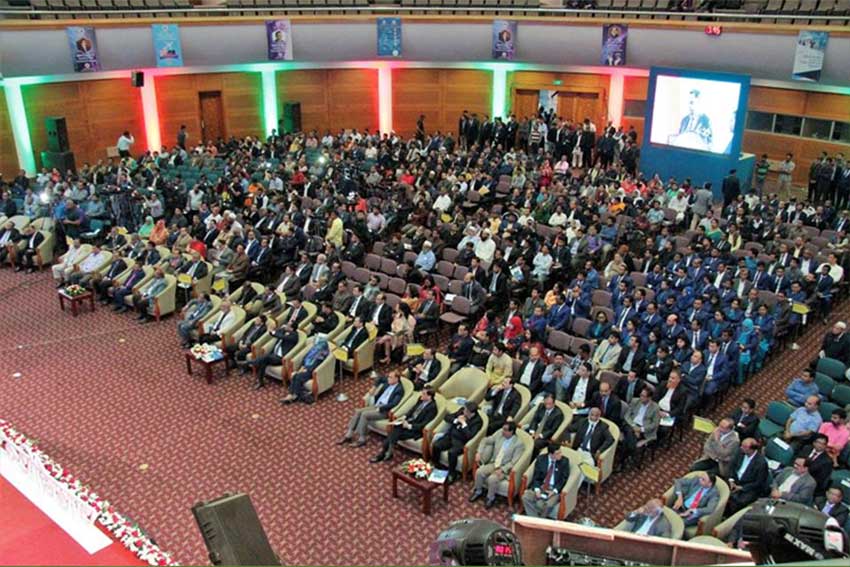 Audience in the seminar