On the 26th of January, 2017, the Fiji Revenue and Customs Authority (FRCA) conducted a presentation to mark the launch of the ASYCUDA World Dashboard for Fiji.
The presentation was organised by Mohammed Rizwan Khan, ASYCUDA National Project Team member, who gave a comprehensive report on the features of the Dashboard to stakeholders at the Regional Training Centre in Suva, Fiji.
The data collected and processed by Fiji customs through ASYCUDA World as part of their customs clearance operations is now available in real time for data mining and reporting. The ASYCUDA programme has developed a management reporting platform to make this information readily available in the hands of executives to support decision-making. For those at the operational customs level, it aims to improve efficiency and achieve the required balance between the need for control and trade facilitation.
The ASYCUDA World Dashboard is an easy-to-read summary of the analysis of the information which can be customised in terms of users and expectations. It has also been developed with the ability to delve into the details of the information as required by selecting the desired variable or object.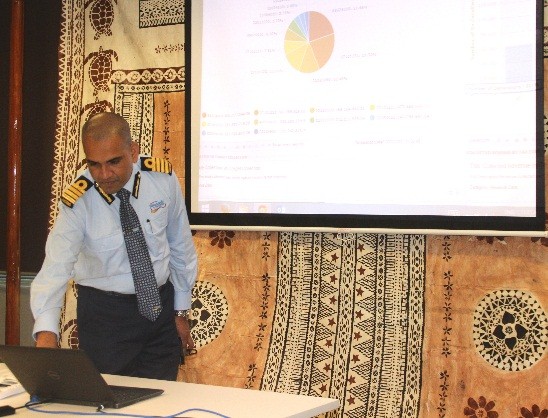 With its intuitive data presentation, there is no need for complicated and exhaustive training. ASYCUDA World Dashboard software is also programmed to suit any mobile device, constructed with the idea that it can reach anyone, anywhere, in a timely manner with the most accurate information. The ASYCUDA World Dashboard method of reviewing details and viewing the status of operations provides a significant opportunity to make the Fiji Revenue and Customs Authority's business more efficient and quick to respond to issues and opportunities.
As one of the first countries to utilise this programme within the sub-region, Fiji aims to continue to implement such initiatives to further develop its customs capability in the global arena.
For more information on this you can contact the Fiji Revenue and Customs Authority on E: This email address is being protected from spambots. You need JavaScript enabled to view it.